BULGARIA
Bulgaria is situated in the South - Eastern Europe, on the Balkan peninsula. To the north the country borders Romania, to the west Yugoslavia and Macedonia, to the south Greece and Turkey. To the east Bulgaria borders the Black Sea, which separates it from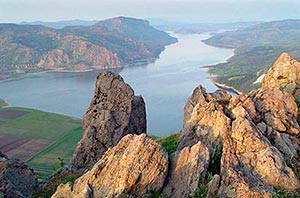 Russia and Ukraine. The territory Bulgaria is 111 thousand square km. The average height above sea level is 470 m.


Population - about 8 million

Capital city - Sofia, with population of 1 million inhabitants

Official language - Bulgarian, belonging to the Slavonic language group

Written alphabet - Cyrillic

Religion - Eastern Orthodox Christian; the Bulgarian church is independent with a head patriarch

Time - the differences in time zone is Greenwich time +2 hours, Central European time +1 hour.

Climate - temperate- continental, mild and favorable for adventure journeys all the year round. The coldest month is January with an average temperature of 0 C. Summer temperatures rarely exceed 30 C, the average summer temperature is 26 C.

Flora and fauna - there are over 13 thousand kinds of wildlife in Bulgaria, which is 14 % of all the European fauna. Even though Bulgaria is not a large country, it is rich in its flora and fauna. Almost 14% of the country territory is covered with forests. There are over 3 000 kinds of plants, very rare and exotic of their kind, for example the Edelweiss flower. Bulgaria is famous for its rose oil. The largest area of these rose plantations is near Kazanlak and is known as "The valley of the roses".